Personalised Decanter Stand
Posted on
Pat and Sue Fleming asked me if I could make a unique birthday present for Sue's brother Alan who is a plasterer by trade. It was Pat's idea to modify a bread board to create a stand for a decanter/carafe.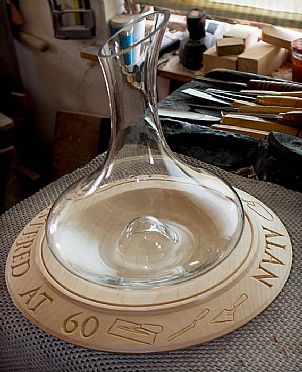 Alan is a wine officianado and it was thought that a decanter and personalised stand would be a fitting and unique gift for him, espcially if it could be decorated with the "tools of the trade"
I turned a normal 12" board which was then dished on the Lathe to create a receptacle for the Decanter.
The inscription that I put on the board is
"ALAN STILL PLASTERED AT 60"
Here I'm starting to carve the lettering onto the board. I use Pfeil Swiss carving tools which are the best in my opinion.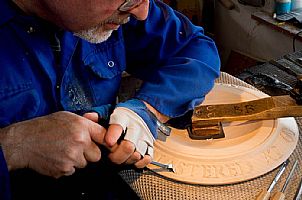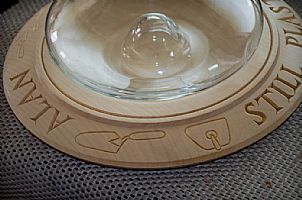 Decorated with plasterer's tools.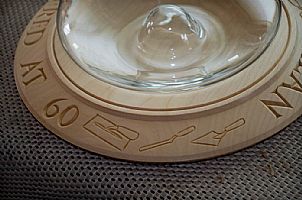 A satisfying result which delighted Pat and Sue and was total surprise for Alan when it was presented to him on his special birthday. I have since spoken to Pat who tells me "Alan was totally bowled over with his unique gift"
"Thanks once again, a truly fantastic and individual gift made by an absolute craftsman."
Regards
Pat and Sue